A new summer activation that brings Nescafé under the beach umbrellas on the Rimini waterfront with a fresh and delicious tasting to discover the two Nescafé recipes: Greek Frappé and Cappuccino. An occasion to celebrate the Frappé, invented by Nescafé itself in 1957 by an employee who unintentionally came up with it when in the absence of hot water he used cold water with ice in a shaker. And voila...
The activation was conceived to target consumers during the hottest moments of the year with an unexpected tasting experience, right under the beach umbrella.
Rimini was strategically chosen among the many beaches due to its extensive coastline, offering 7 km of beautiful beach, along with 150 bathing establishments and 72 beachside bars. It attracts an increasingly diverse and health-conscious tourism. Moreover, during the first week of July, Rimini hosted the Notte Rosa, the region's most prominent event, drawing over 2 million attendees.
This initiative encompassed a proper tour, engaging 9 different beach resorts. Existing kiosks were branded as fixed locations, and an on-the-go tasting approach was employed to reach beachgoers along the shore and under the beach umbrella. It surpassed being a mere trial activation, delighting everyone and far exceeding expectations, with nearly 13,000 tastings. It was also a drive-to-site campaign, urging consumers to explore the various Nescafé recipes on the website, while simultaneously encouraging them to visit selected stores through a drive-to-store promotion, offering a complimentary milk frother with the purchase of Nescafé.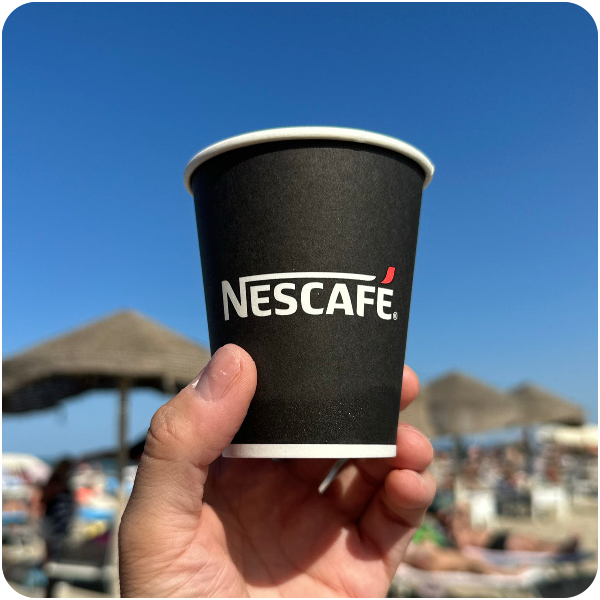 An unexpected activation for the target audience, who greatly appreciated both the approach and the product in its new summer version.